Coulomb wires are here to safeguard you and your loved ones by preventing any damage caused by faulty wiring at home or commercial premises.
Fire-resistant wires are the newest flip off face technological craftsmanship in the world of electrical cable transformations to challenge the damage to lives and house /office complexes caused by fire.
Also referred to as the fire survival cables, fire-resistant cables by Coulomb Electrical Solutions are designed with an intelligent and holistic fusion of technology. Embedded with technically advanced conductors, the wires stay resilient under direct fire and high temperatures for a specified period of time, allowing complete safety during a sudden eruption of fire.
Where Coulomb Electric Wires can be installed?
Coulomb Electric wires are befitting to be incorporated in the electrical circuits of residential and commercial complexes including subways, metro stations, and power plants, airports, shopping malls, hotels, hospitals, stadiums, cinemas and other places with high human presence.
Why Should You Prefer Coulomb Wires?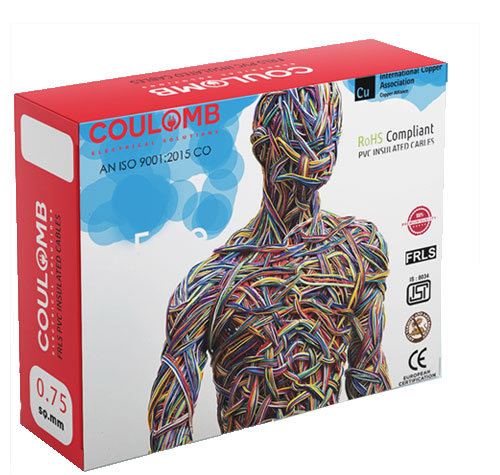 There are several advantages that coulomb wires offer over other brands:
Compared to the conventional wire systems, electric wires by Coulomb Electrical Solutions save substantial space and have low toxicity properties. Available in various colours, they also have a slick finish.
Coulomb electric wires are contrived after stringent extensive research to safeguard the operational efficiency of critical electrical circuits during fire under temperatures as excessively high as 8000C to 9500C.
Sheathed with heat-resisting insulating materials, the conductors of Coulomb electric wires disallow fire to touch or damage the conductor surface. This enables the complex to resist fire for almost half an hour to three hours with continued power transmission, during which fire-rescue operation can be executed smoothly without causing any injury.
Different Characteristics And Features Of Coulomb Wires
Used in the safety or the critical electric circuits, which come in operation during emergencies, Coulomb fire-resistant wires have the following properties that enable their functionality.
They are anti-termite and anti-rodent.
The PVC insulated cables strictly comply with the RoHS (Restriction of Hazardous Substance) directives. They do not emit corrosive gasses.
They are available in different colours.
The insulation resistance of these wires is extremely high against fire.
The Nominal Area of their Conductor is 1.5.
The leakage current is 0.010 amps.
Their bending radius is the same as for normal cables.
Incorporated with self-extinguishing substances they do not let fire flames spread.
Beneficial Aspects
Embarking on an ambiguous journey, Coulomb Electrical Solutions set out to fight the destruction caused by fire. They aspired to make every home, office and highly human concentrated complexes thoroughly secured from the potential dangers of fire. Their critical circuits can be fit easily in the buildings by engineers and safeguard the entire property in which they are implemented.
Let Coulomb Wires Safeguard Your Home & Office Space
Even though we are still struggling to find ways out of this dreaded calamity at large, we can protect our homes and complexes against its rage by adopting a proactive approach and running fire-resistant wires by Coulomb Electrical Solutions in our electrical circuits.